IT'S ALMOST CHRISTMAS!
Written by: Christina Boyce
It's almost Christmas! This phrase is proclaimed by my mother-in-law every July as she reflects on how quickly the first half of the year has flown by and anticipates the second half being even busier.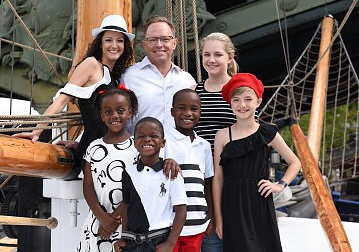 With five children ranging from kindergarten to high school, the school year for my family consists of a whirlwind of lessons, reports, projects, practices, field trips, games and performances. Just keeping up with who needs to be picked up and dropped off where and when is a daily challenge. My husband and I joke that by the time our youngest graduates, we should be awarded honorary degrees in logistics! When summer break arrives, we're purposeful about taking time to slow down and refuel before the go-go-go picks back up in the fall. We simplify our schedules and enjoy the extra daylight after work. Dinner is often cooked on the grill, we let swimming substitute for a shower, we stay up a little later, sleep a bit longer and read a few of the books piled on our nightstands. Our house is a bit quieter as our children take turns attending summer camp. We delight in the beauty of God's creation as we visit the mountains or the beach or simply sit on our porch and watch a thunderstorm roll in. Memories are made whether our adventures consist of a day at a local nature preserve or a trip to a foreign country. This time of rest and growth and togetherness strengthens our relationships and re-energizes our spirits.
Summer is in full swing on the FBCH and One More Child campuses, too. Children are on the playgrounds and splashing in the pools. Foster parents are taking children on vacations. The children have been on beach trips with fishing and kayaking excursions and have spent days at theme parks like Busch Gardens and Disney. Many of the older children and teens from the campuses had a blast at a summer camp in Hudson, Florida. A group of residents and house parents are even going on a mission trip to Guatemala—think of how life-changing such a trip has the potential to be! I think it's wonderful that these children are receiving the security of family and the opportunity to make fun summer memories. Pray with me that summer will be a season where all of the children and families served by FBCH and One More Child experience growth, healing, and God's love.
Let this post also be an invitation to you to hit pause this month. Carve out some mid-year rest, time in the Word, and peace in the Lord's presence. Be intentional about connecting, adventuring and living in the moment with people you hold dear. It may be just what you need to refresh your heart and recharge your spirit before August arrives and, before you know it'll be
Christmas!
Resting in Him,
Christina Boyce
Women of Compassion Council