On July 25 we celebrated the official naming of our organization's international headquarters the Joe K. Blanton Campus, in honor of Blanton and his late wife, Alberta.
The legacy of Mr. Blanton, the one-time president of Publix, is one of abundantly loving others and one that will now live on forever thanks to a remarkable $5 million gift the Blanton family has made to Florida Baptist Children's Homes to transform the lives of children for generations.
The gift will be placed in the Joe K. Blanton Family Endowment Fund where its income will forever provide vital services to children who are disadvantaged or have been neglected, abandoned or abused.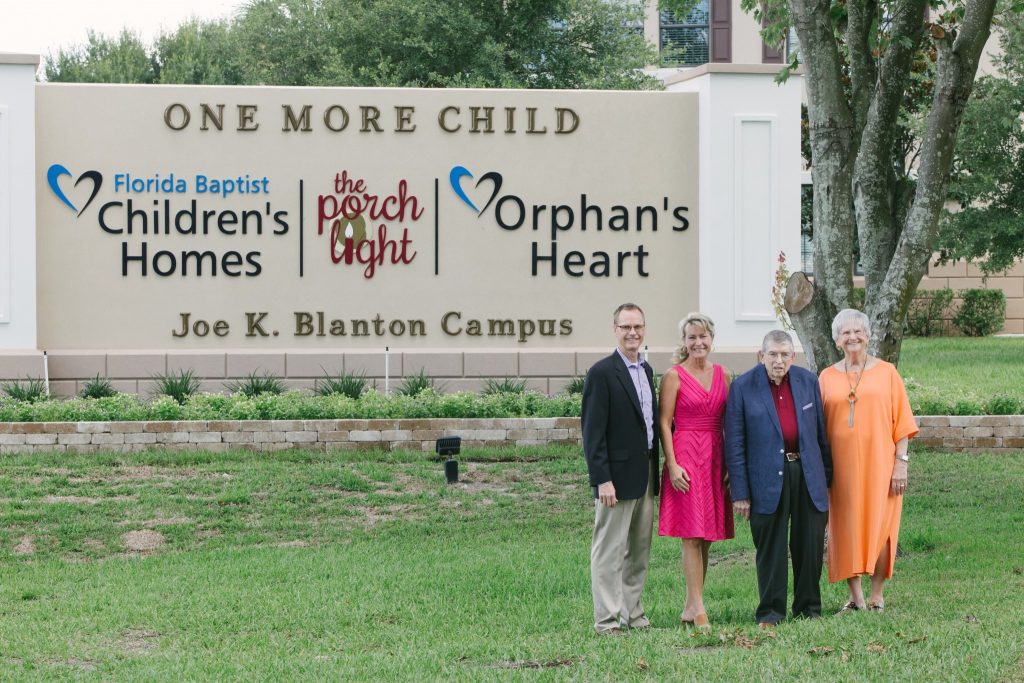 To get a glimpse of who Mr. Blanton was, one can look back to one Christmas season when he offered to provide the main course for a special meal at his church that was highlighting the annual missions offering.
He sauntered into the common area that evening grinning from ear to ear as he carried a whole roasted hog on a platter. The hog was complete with an apple in its mouth.
"He put that down on the table and had everyone in that room smiling," said Pastor Bill Hild, who was a student pastor at Parkview Baptist Church at the time. "Joe was effervescent and the consummate church man who was generous with his giving, and also with his attention."
Mr. Blanton was a man who delighted in doing things well, whether it was carving meat behind a deli counter, making memories with his family, serving the Lord or making formative decisions as the president of Publix for more than a decade.
Blanton, who served as the president of Publix from 1974-84, was also a board member for Florida Baptist Children's Homes from 1971-77. The man who Publix founder George Jenkins called a "genius" and his "right-hand man" was known by his peers as a dynamic and tireless employee of the beloved grocery chain and also as a man of great charity who had a deep reverence for children.
"He was very generous, probably the most generous person I know," said Kim Wilbanks, Blanton's granddaughter who currently serves on the Florida Baptist Children's Homes board. "He was a very hard worker, he loved family, he loved the Lord and he loved Publix."
Kim's mother, Ann Edwards, also has fond memories of her family's involvement with FBCH, including her personal involvement serving as a nurse with the health department.
"In the late 50s or early 60s, there were a lot of people getting re-vaccinated at the time because of polio and other diseases. I set up a little clinic in the chapel on the FBCH campus in Lakeland and helped people get the shots they needed," she said.
In making the gift in memory of her father and mother, Ann Edwards, her husband Ward, along with their family, are creating a legacy that will meaningfully impact the spiritual, physical and emotional health of children. In 2015, more than 155,000 services were provided to children and individuals in Florida and around the world through Florida Baptist Children's Homes, One More Child and The Porch Light.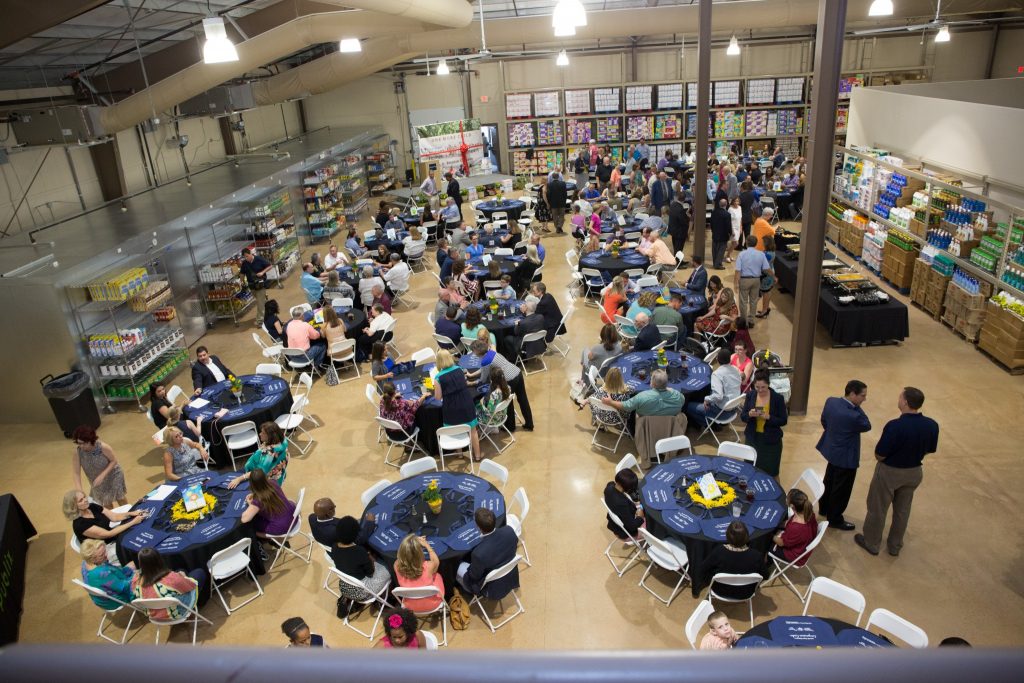 "We are so grateful to the family for this amazing gift that will literally provide life-changing services for children today and for generations to come," said Dr. Jerry Haag, President of Florida Baptist Children's Homes, One More Child and The Porch Light. "Mr. Blanton was a much esteemed man, and Ann shared with me that this ministry and his church were at the top of his priorities."
Blanton's fondness for youth was evident by how he provided a brand new Bible for every high school graduate at Parkview Baptist Church. As a grandfather, he delighted his grandchildren by making a magnificent playroom in his home and by churning out fresh batches of homemade ice cream on hot summer days.
It is no surprise then that Blanton is credited with leading Publix's expansion into the dairy manufacturing business in 1980 and overseeing the launch of the chain's famous ice cream brand.
"Every July at the Blanton Family Reunion, he had a 5-gallon churn he made fresh ice cream with, usually made with fresh peaches, and finally one day he gave it to his church because he said that he couldn't make it better than the Publix ice cream," Ann Edwards said.
The gift from the family serves as a foundational contribution to Florida Baptist Children's Homes, which is dedicated to meeting the growing needs of children throughout Florida and around the world who are disadvantaged or have been abandoned, neglected or abused.
Blanton's success was made possible partly because he emulated many of the characteristics Florida Baptist Children's Homes holds in high regard when considering the value of every child. Blanton was only formally educated through ninth grade, but his hard work ethic and gregarious personality carried him to great success.
In the book 50 Years of Pleasure, George Jenkins said the first time he saw Blanton in a grocery store, he was cutting meat, walking on crutches and pivoting around the meat block – an insightful glimpse to the lengths he would go to serve people.
Blanton was a meat cutter for All American grocery stores early in his career, and he became part of the Publix family when George Jenkins acquired 19 All American stores in 1945. Blanton would go on to become Publix's meat supervisor and vice president of real estate before stepping into the role of president in 1973.
Blanton was not above any task, even in his role as president, and family and friends recall seeing him on numerous occasions on his hands and knees at a store cleaning up a spill or picking up a broken bottle.
That same devotion spilled over into his role of grandfather. Ann remembers how her father was determined on family vacations to get to the final destination as quickly as possible without any detours – that is until his grandchildren came along.
"With Kim, he would willingly stop anywhere she asked," Ann said. "If she was hungry, he would stop; if she wanted to see something along the way, he would stop."
Mr. Blanton's approach to serving FBCH was much the same, according to fellow former board member Doug Mason.
"Joe, he would do everybody right. Joe was a super guy," Mason said.
The Joe K. Blanton Campus includes four residential foster homes, an emergency shelter, homes to serve its newly-launched Single Mothers and Children Ministry and the Harold Clark Simmons Compassion Center, which will open later this year to provide extensive support and services to children and families in need in the community. The campus is also home to the headquarters for Florida Baptist Children's Homes, One More Child and The Porch Light where employees oversee adoptions, license foster homes, provide safe-home care for child victims of sex trafficking domestically, oversee international missions and sponsorship programs and more.
"The generosity of Joe Blanton and his family is seen all over Lakeland!" said Publix CEO Ed Crenshaw. "We are fortunate to see Ann and Ward continue that legacy of generosity for an organization that changes the lives of so many children."
Crenshaw served in 2014 as the chair for the Florida Baptist Children's Homes' CEO Children's Council.
Florida Baptist Children's Homes has been providing hope and healing to children and families since 1904. Dr. Haag is ecstatic for the organization to be embraced and supported by a family with such a deep, rich heritage.
"It has been such a heartwarming experience for my wife, Christi, and me to get to know Joe and Alberta Blanton through pictures and stories shared by friends and family, and we are thrilled that their name is now going to be forever associated with transforming the lives of children through Florida Baptist Children's Homes," Dr. Haag said.
The needs of children, and the tragedies they have faced, are more significant than ever before. Every gift, both large and small, is critical to this ministry because each dollar allows them to run to these precious children with the hands and feet of Jesus!