Written by: Dr. Stephanie Shackelford, EdD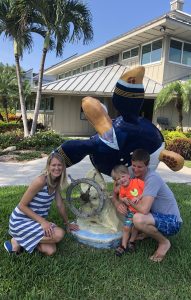 During our beach vacation this past month, our 2 ½ year old was fascinated by the golf carts riding up and down the beach monitoring sea turtle nests. "Why do they mark the nest with tape, Mama?" he asked over and over. "Why do they need to protect the eggs?"
I explained how fragile the eggs were and how small the turtles would be when they hatched. I showed him where the eggs had been buried and how we wouldn't know that a nest was there without the tape outlining the boundaries.
He concentrated as I talked then started calling to the waves, "Stay back! Stay away from the sea turtle nest!" Suddenly it was his mission to be an advocate and protector of the unborn baby sea turtles.
This same passion resonates through Women of Compassion as we desire to protect innocent children, come alongside single mothers, and provide safety for victims of sex trafficking. Women of Compassion serves the vulnerable because we trust in our ultimate Protector who risked everything for us on the cross.
Because Christ conquered sin and death, we can take refuge in him. We have full confidence that in Him "the boundary lines have fallen for me in pleasant places; surely I have a delightful inheritance" (Psalm 16:6). Like those patrolling the sea turtle nests, God makes "my lot secure" because He alone is "my portion and my cup" (Psalm 16:5).
Praise be to this God who is our Rock!
Many Blessings,
Steph Shackelford
Women of Compassion
---
THREE WAYS YOU CAN HELP SINGLE MOMS!
The Single Moms program is looking for dedicated volunteers who are willing to commit to volunteering for one Thursday each month. This is a perfect way to engage your family, your small group or your friends in a meaningful time of community service by helping single moms and their children.
Click on the photos below for more information.