By guest blogger and Women of Compassion council member, Christina Boyce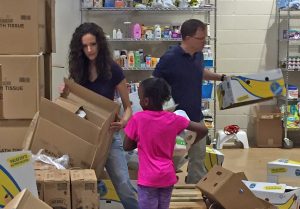 Recently, we held our first Women of Compassion Day of Service at the Joe K. Blanton Campus of Florida Baptist Children's Homes in Lakeland. I brought my husband and five children along for a morning of stocking grocery items and packing backpacks with life-changing food at the Harold Clark Simmons Compassion Center. We started the morning with donuts, coffee, introductions and a brief orientation, and our volunteer shift was followed by a picnic and fellowship with house moms, campus kids and other Women of Compassion members along with their families and friends. I love rolling up my sleeves and working for a good cause, and it is always enjoyable to meet other Women of Compassion who share my heart for Florida Baptist Children's Homes (FBCH).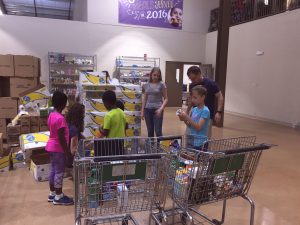 After lunch, my family of seven piled into our SUV and headed to Disney for the rest of the weekend. But guess what the highlight of the weekend was for my children? Not the theme park characters and thrill rides, but our morning at FBCH! They loved being given jobs and feeling responsible, and they were able to experience the joy that comes from serving others. The popsicle breaks were a fun treat, too!  I want to raise my children to believe they can change the world, and I can think of no better way to do this then by example — by being involved and involving them in volunteerism as they are growing up. We are looking forward to making Saturday mornings at the Harold Clark Simmons Compassion Center a recurring event on our family calendar.
Being a member of Women of Compassion is evidence that you have a compassionate heart and are generous with your finances. However, I would like to challenge each of you to put your compassion into action this year by also "doing" something outside of your normal routine, and maybe even outside of your comfort zone, to support FBCH. I know squeezing in additional commitments isn't easy! With so many demands on our schedules these days, time is a precious resource — but serving others is such a meaningful use of it.
Here are a few ideas for your consideration:
Call the FBCH campus closest to you to inquire about volunteer opportunities. Helping hands are always needed, and there is sure to be something to suit your skill-set, available time commitment and areas of interest.
Put together a birthday box, basket or bucket for a child in need.  Include a cake mix, frosting and candles, a birthday card, some gifts and/or gift cards, balloons and confetti, all wrapped up with a festive bow on top. This would be a fun activity to do with your children or grandchildren, and it can even be combined with your own birthday celebrations (have each guest bring a gift card to add to the birthday box).
Help prepare a child for the new school year.Contact the FBCH campus nearest you to find the name and size of a child.  While back-to-school shopping with your own children or grandchildren, buy a backpack, school supplies and a new outfit for that child to give them something new to wear in the upcoming school year. Involve your Sunday school class or include a school-supply drive as part of an end-of-summer/back-to-school gathering of friends.
Gather some girlfriends for a campus tour. This is a great way to see and share the many ways FBCH makes a difference in the lives of children and families. Even if you've been a supporter of the Children's Homes for years, I'm certain you'll learn something new!  And you might just recruit some new WOC members!
Host a fundraising event at your home. Members of WOC have done some really creative fundraisers over the years. Connie Aplin invited a celebrity chef to cook for her guests while she shared about FBCH and Women of Compassion. Julie Boyd once had a party she called the "naked lady party" — each guest contributed 20 articles of clothing or accessories from their closets, took turns "shopping" each other's stuff — trying on each other's clothes, modeling them for each other and "purchasing" what they liked (with the money going to FBCH), and at the end of the evening donated all the clothes and accessories not purchased to FBCH.
Sign up for one of the Women of Compassion trips. You and your spouse can join Mark and Rebecca Rothman to experience the exciting projects One More Child has in process in the Dominican Republic, or come along with Jerry and Christi Haag (and me!) to see how One More Child is making a difference for children and families in Romania.
Plan to attend the next Women of Compassion Day of Service!  Stay tuned for the date. I hope to see you there!