1 in 6 children in America struggles with hunger. Every ten seconds, a child around the world dies from hunger-related diseases. From 2014- 2016, there were more than 795 million people around the world who suffered from chronic undernourishment. These staggering statistics can keep us awake at night, envisioning ways that we can make sure One More Child is fed.
Florida Baptist Children's Homes uses different avenues to feed hungry children across our ministries. The methods may look different, but the goal is the same, to provide life-changing nutrition to hungry children and families. In 2016, we provided over 3 million meals to children and families in need in Florida and around the world.
Alaina* arrived at one of our residential campuses in the middle of the night. She was visibly underweight with a heaviness in her eyes that no 11-year-old child should have to carry. The first thing our shelter workers did was provide Alaina with a plate full of warm chicken and rice. She dug right in and even asked for a second helping.
Another child served was 6-year-old Rami*, who lives in Uganda. When we met him, he had parasites because of the malnutrition he endured. Today, because a generous donor chose to support him through our sponsorship program, Rami and his family now receive a large package of nutritious food each month. He is now healthy and thriving! Rami is One More Child who has been impacted by our international ministry, One More Child.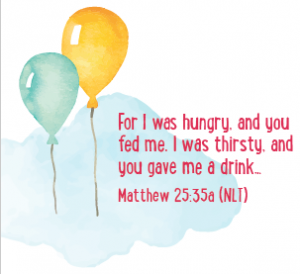 Recently, three young siblings were brought to The Harold Clark Simmons Compassion Center by their father who had lost his job. Because of the sudden lack of resources, the entire family was in urgent need of food. We were able to immediately provide his family with a few weeks' worth of food along with resources to help get the father back in the workforce.
The average cost to provide a meal to these children and families is $1. We are asking that you help provide as many meals to children as your family is able! The vision we have to care for more children in Florida and throughout the developing world is bold and exciting, and we need you to partner with us to make it successful!
We need your gifts to provide meals through all our different ministries for children! Thank you for joining us in our efforts to provide care and hope to One More Child. By investing in children, the future of our communities and of our world becomes brighter!
Together for Children,
Jerry T. Haag, Ph.D., CFP ®
President, Florida Baptist Children's Homes, The Porch Light & One More Child
[line]
YES, I will give to provide meals to hungry children and families!

*Name, certain details and photograph have been changed for reasons of confidentiality.
**Your gifts will be applied to the area that you designate. If designated gifts should exceed the amount required for a particular need, then those funds will be applied to the area of greatest need for our children.