By guest blogger and Women of Compassion member, Kristen Hitchcock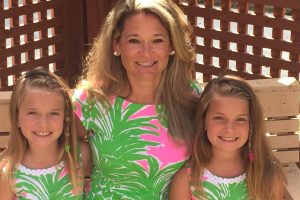 This May, I celebrated 10 years with my twins, Hannah and Hailey—10 years of life, 10 years of fulfilling God's will, 10 years of Mother's Day miracles!
I remember the day like it was yesterday, not their birthday, but the day their adventure began before I realized that they were going to be a part of my journey on this earth. It was July 4, 2006. My little family—husband, Brett, 2-year-old toddler, Hunter, and three-months-pregnant me were down in Sanibel Island, Florida. We were enjoying the beautiful beach and celebrating the U.S.A. The only problem was that I felt different. I was pregnant, so different had become my normal, however, on this day my new normal felt abnormally normal.
A week later, I found out that I miscarried the sweet baby I was pregnant with and really did not desire to go through such a loss again. However, God worked on my heart as I was so sweetly reminded of His promise, "For I know the plans I have for you, declares the LORD, plans to prosper you and not to harm you, plans to give you HOPE and a FUTURE" (Jeremiah 29:11). And, as it was meant to be, God had a plan for me and a calling on my life, so three months later, like Hannah from scripture, I dropped to my knees and prayed. In that prayer, I told God that if He would allow me to be pregnant again and have another child, I would give Him all my YESES, no matter what He asked of me……and guess what…. the next day I found out I was pregnant with Baby A and Baby B. God answered my prayer, and I was going to keep my vow to say YES whenever He called.
Then, 28 long weeks later, I welcomed Hannah and Hailey into this world at 32 weeks' gestation, two days before Mother's Day in 2007. They were Mother's Day miracles, completely healthy, really early and two special gifts from God. "For this(these) child(ren) I prayed, and the LORD has granted me my petition which I asked of Him" (1 Samuel 1:27).
ALL CHILDREN ARE A GIFT FROM GOD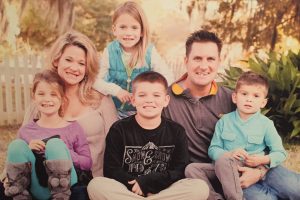 What I realized since that day, and since my vow, is that all children are Mother's Day miracles. All children are a gift from God, and they all have a call on their life. Even if you are not a mom, you have Mother's Day miracles in your own life as well. Every child you have impacted, prayed for or prayed over has become a miracle in your life and you have become like a mom to them.
When Jesus was telling the people about the judgement to come and that those who have sacrificially loved others will be ushered into the Kingdom of Heaven, He knew who would one day be part of Women of Compassion, Florida Baptist Children's Homes (FBCH) faculty and staff, and unofficially, official "moms." He is probably looking down and saying like the King, "What you have done for the least of these you have done for me."
Matthew 25:40 says, "The King will reply, 'Truly I tell you, whatever you did for one of the least of these brothers and sisters of mine, you did for me."
That's why I love the ministries of FBCH, The Porch Light and One More Child so much, they have given me the opportunity to love so many other children and their families. FBCH looks at each child as an opportunity to show Christ, pray, LOVE and become like a mom to them in so many ways. These children impact my life so much; it is through the children at FBCH that God asks me to say "YES." Through the ministry and through Women of Compassion, I have been able to join many other women in loving on children here in Florida and around the world. My Mother's Day miracles have grown from Hunter, Hannah, Hailey and Hayden to Forrest, Destiny, Ryan, Catherine, Leyla, Maria, Andres, Gerson, Olivia and so many others. These are my Mother's Day miracles, and they are the reason my heart strings will always be tied to Florida Baptist Children's Homes, The Porch Light and One More Child.
To all my "unofficial" Mother's Day miracles out there, "You are loved!"