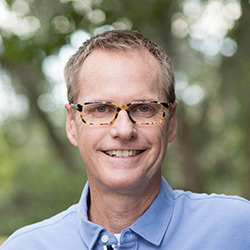 Jerry T. Haag, Ph.D., CFP
President/CEO
Dr. Jerry Haag serves as president and CEO of Florida Baptist Children's Homes and One More Child. He earned a bachelor's degree and master's degree in finance from Baylor University and earned a Ph.D. in finance and real estate in 1995 from the University of Texas at Arlington. He also has corporate work experience with AT&T and is a Certified Financial Planner.
From 2000-2007, Dr. Haag served as president and CEO of the South Texas Children's Home in Beeville.
In 2007, Dr. Haag joined the staff at Florida Baptist Children's Homes as the ninth president in the organization's rich history, which dates back to 1904. During his tenure as president, he has guided the expansion of ministry sites from nine locations in Florida to 25 locations across the state, launched a successful global ministry to help children in 13 countries around the world, launched an anti-trafficking ministry focused on preventing child sex trafficking and restoring victims, and established numerous partnerships with churches and nonprofit organizations.
Under Dr. Haag's leadership, the number of children and families served through Florida Baptist Children's Homes and One More Child has increased from 3,351 in 2007 children and individuals to 200,524 in 2017.
In 2018, Dr. Haag was awarded the 2018 George W. Truett Distinguished Service Award by the Baylor Line Foundation and was honored at its Hall of Fame Gala for his exceptional leadership in meeting the needs of children around the world.
Dr. Haag has been appointed and reappointed since 2013 by both Gov. Charlie Crist and Gov. Rick Scott to serve on the Florida Faith-based and Community-based Advisory Council. He also served as a member of the Citizen Review Panel for Florida Department of Children and Families, which was formed as mandated by the Federal Child Abuse and Treatment Act of 1996. Dr. Haag also chaired the Christian Alliance for Orphans (CAFO) National Foster Care Initiative – Faith and Foster Care Research Team and served on the President's Advisory Council.
Dr. Haag had the pleasure of being selected to participate in a distinguished seminar on Religion and U.S. Foreign Policy, sponsored by the Institute on Culture, Religion and World Affairs at Boston University. Participants were leaders from around the world who work in academia, government, religious institutions, media and nongovernmental organizations. The seminar focused on how beliefs, values and lifestyles affect economic and political developments worldwide, with special attention paid to the role of religion in world affairs.
Dr. Haag has led and participated in humanitarian aid, emergency relief, childcare and ministry to children and families in countries around the world. He has preached in churches throughout the nation, and he and his wife, Christi, also enjoy speaking together.
Additionally, he has authored, presented and published academic articles relating to his business expertise and has been honored several times for his business, professional and civic achievements.
The Baylor Alumni Association named him an Outstanding Young Alumnus in 2005. He was named Baylor University's Vice President for University Development in 2011, where he served before returning as President of Florida Baptist Children's Homes.
Dr. Haag lives with his wife in Lakeland, FL. Christi is a well-known speaker with "Women of Purpose Speak." Their eldest son, Ben, lives and works in Tampa, FL, and their youngest son, Brady, attends Baylor University. Dr. Haag and Christi are members of Church at the Mall in Lakeland.